Our Clergy
Rabbi Stanley Halpern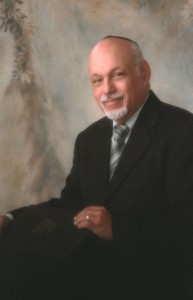 A native of Spokane, Washington, Rabbi Halpern graduated from The University of Washington and was ordained as a Rabbi at Yeshiva Rambam in Beersheba, Israel, in 1977. He comes to Indianapolis with his wife, Indianapolis native, Carol Nahmias Halpern, from Temple Israel in Gary, where he has served as Rabbi for the past 26 years.
His professional experience includes teaching at Calumet College of St. Joseph and Valparaiso University, as well as work on the Munster Community Hospital Bioethics Committee, the Lake County Domestic Relations Counseling Bureau, Hospice of the Calumet and the Open Housing Center of Northwest Indiana. Earlier he had been a fundraiser in Sacramento, CA, and Scholar-in-Residence at Dropsie College in Philadelphia, where he worked with the College's large collection of Judeo-Arabic manuscripts.
Rabbi Halpern never misses a teaching moment, and we always look forward to the next.